One of my friends/ co-workers is getting married in October and having her bridal shower this week.  The future bride, Paulina, is an incredibly spicy south American lady…think along the lines of Gloria from the show Modern Family.  Most people either love Paulina or hate her.  I happen to adore her.
Because of her flamboyant nature and need to always be the center of attention, Paulina's work nickname became "peacock".  Now that she is settling down, for her wedding shower, I wanted to gift her something "house-wifey" that still maintained some of her usual flair.   Since she loves to cook, an apron seemed a fitting choice.  I then went online to search for inspiration.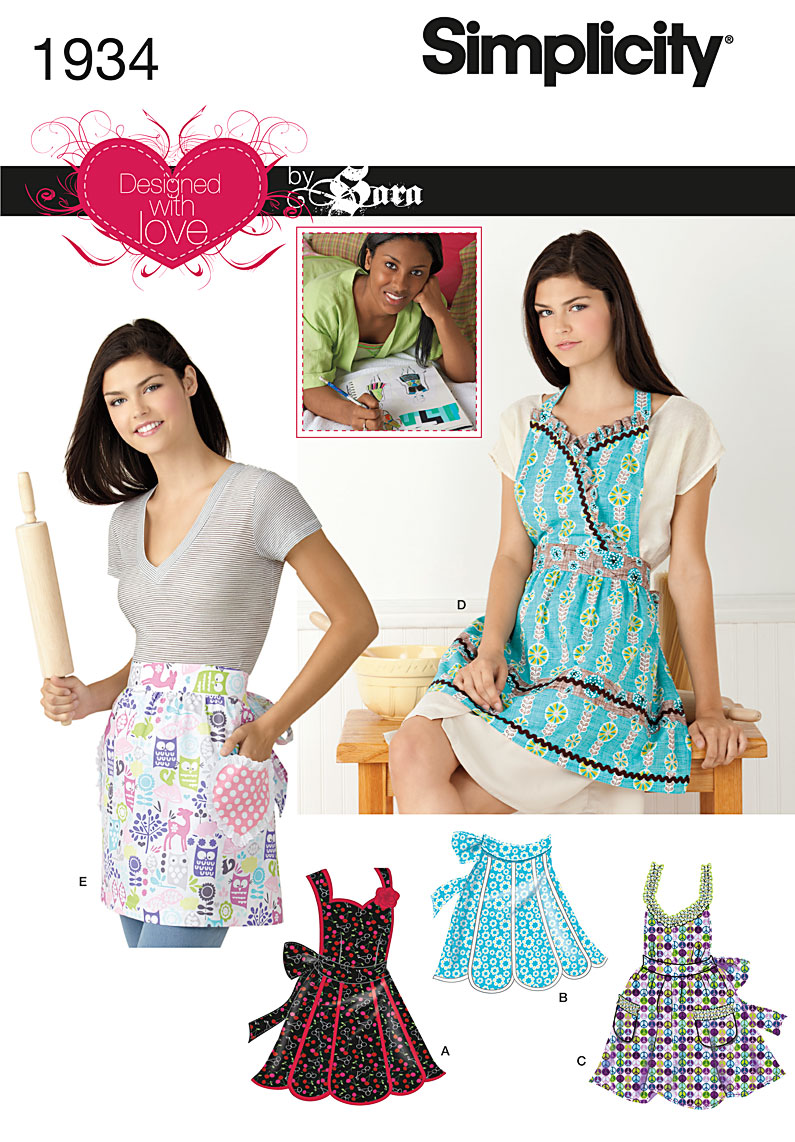 I thought the bottom of version A of Simplicity 1934 kind of looked like feathers and might be a good start.  Some other inspirations were:
My original concept looked something like this.  I thought that I wanted it to look somewhat art deco-y.  I wanted the bottom part to represent feathers, and felt that the bodice needed something as well.  Josie had the idea to make two bird necks form a heart.  I thought about writing something on the sash as well (in Spanish?).  Unfortunately, the literal translation of "peacock" into Spanish is "royal turkey" so that was out.  I decided to just go for it without having a final plan in mind.
Things started off well…and then the obsessing started.  The first problem I encountered were the colors.  I originally wanted a demure, sweet looking apron and made it in a light mint green fabric with turquoise bias tape.
Unfortunately (and really, quite logically now that I think about it) peacocks, by nature, are NOT subdued…so that idea didn't work out so well.  The obsession then began to take its toll on my close friends and family members…I even went so far as to walk out to the garage and plop the apron and a bazillion fabric swatches directly on top of the dorkfest game my husband and his friends were playing on one of their regular Thursday night get togethers.  They were pretty good sports initially, but after they came to their senses and realized they were a group of men drinking beer and having a conversation about which colors did or did not did not "pop", I got kicked out of the garage.
The next day, I went back to my favorite place for inspiration and found this in the bargain bin on my way out!
That night I used wonder-under to stick everything together and onto the apron.  I was so pleased with how it looked that I almost stayed up really late to stitch them down.  Instead, I made the prudent choice and went to bed.
I woke up the next day and went to admire my progress…. Holy avocado!
So I unglued and staggered the feathers a bit to give them more curve and felt very relieved that I decided not to over-achieve the night before.  It looked a little better…but I still felt angry at the apron for not cooperating.
I then decided that I didn't want to commit to making both a peacock and peahen on the bust.  That, and deep down I kind of suspected that they would end up looking like a pair of phoenixes that had sprung forth from a molcajete of guacamole.
I choose not to worry about the top, and instead worked on embroidering the word "peacock" onto the waistband.  After spending some time obsessing over fonts on this fun website, I finally decided on:
meh.
I then moved on to the bust.  This is what I came up with in the end:
I added the ruffle to ease the transition from waistband to the peacock silhouette.  I also sewed a little bit of green onto the crown feathers.  I felt like it still needed something….and then began obsessing about the eye.
After my husband started pretending not to hear me, I gave up.
"I guess I'm finished with the apron" I thought.
But wait….I realized that I did not like the thread color of the word "peacock" and proceeded to cut open the waistband, undo half of the embroidery and re-do it in dark green and then even darker green.  After deciding that I liked the original color best, I redid it in the original dark blue.  Then I realized that I should have written "Mrs. Peacock"…guess my blog name is not "sewnormal" for a reason…
Finally, here's a picture of the end product.  All I can say is if the original peacock does not like it, that might ruffle my feathers and feathers may fly.
After finishing this project I got lectured on blah blah blah… "obsessive personality".. blah blah… "you're always sewing"… blah blah "or thinking about sewing"…. and got banned from the machine for the reminder of the day.  Oh how I missed you my love….
But wait….why hello there…and your name is??